Water Restrictions
Current Restriction: STAGE 1 - Effective September 28, 2023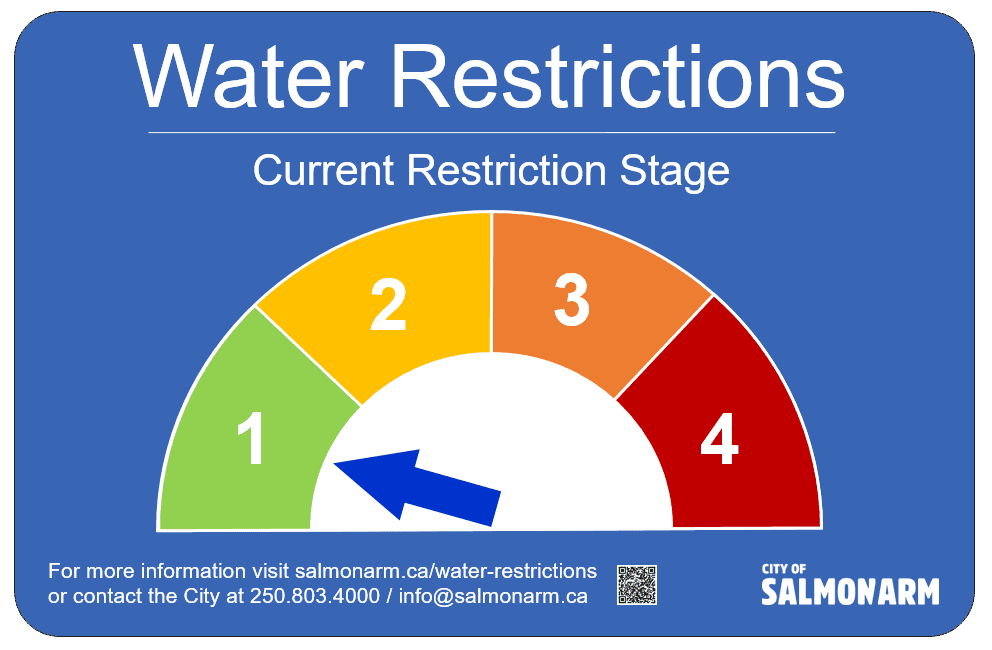 To better manage water demand and ensure sufficient supply during summer months and more severe drought conditions, the City of Salmon Arm has implemented a multi-stage restriction strategy for outdoor water use. These restrictions apply to all properties in Salmon Arm (residential, commercial, industrial, institutional, farm, etc.) that use the City water supply.
Stage 1 is in effect year-round. Restrictions will be increased to Stages 2, 3 and 4 depending on environmental conditions, water supply system capacity and demand on the system. Residents will be notified of the stage changes via sign boards, newspaper, radio, social media, City website and other means available. Use
Notify Me
to set-up email and/or text alerts for water restriction stage changes under the Alert Center section.
The regulations permit outdoor water use on designated days of the week depending on the last two numbers of the street address and the current restriction stage as follows:
Water Use Schedule *



Stage 1

(3 days/week)

Stage 2

(2 days/week)

Stage 3

(1 day/week)

Stage 4

(Not permitted)

Group A (00 - 33)

Sun, Tue, Fri

Tue, Fri

Tue

-

Group B (34 - 66)

Mon, Wed, Sat

Wed, Sat

Sat

-

Group C (67 - 99)

Sun, Tue, Thurs

Sun, Thurs

Thurs

-

* Numbers in parenthesis are the last 2 digits of the street address. Stratas and mobile home parks (MHP) are to use the street address, not the unit address (I.E. the entire strata or MHP will share watering days).

On designated days, outdoor water use is allowed for a MAXIMUM OF 2 HOURS in ONLY ONE of the following time periods:
7 AM – 11 AM
7 PM – 11 PM
12 AM – 7 AM (this is the preferred time period for automatic sprinkler systems)
These periods provide flexibility but the best watering time is overnight or early morning, to maximize absorption and minimize evaporation.
View the detailed water usage restrictions sheet (pdf) for the types of water use permitted for each restriction stage and watch for these water restriction signs posted around the City.
NOTE: Properties over 1/2 acre (0.2 hectares) in size are not permitted to irrigate with City water. This includes properties with farm status.
Failure to comply with these restrictions may result in a fine, metered water rates, or a discontinuation of service.

For or any other questions or to report an infraction please contact City Hall at 250.803.4000 or email info@salmonarm.ca
The use of grey water for outdoor watering is not restricted. Grey water refers to water collected from cooking, rinsing of food, dishes and clothing, baths and showers, or other indoor sources acceptable for outdoor watering purposes. Essentially this is recycling water and is highly encouraged. Collecting snow melt and rainwater in barrels and cisterns is also highly encouraged.
Visit our Water Conservation page for more information on how to conserve water.
Pertinent bylaws: