Fire Smart
Did you know?
Nearly half of all wildfires in B.C. are caused by people. (FireSmart BC)
More than 50% of homes destroyed by wildfire are ignited by embers blown by the wind. (BC Wildfire Service)
80-90% of FireSmart homes with non-combustible roofs & 10 metres of clearance will survive a major wildfire. (Canadian Institute of Forestry)
Individual homeowners and communities can take simple steps to reduce the impact of wildfire. The time to reduce the threat of wildfire is now, not when a fire is at your doorstep. Be proactive, be practical, and be FireSmart.
Adopting FireSmart principles to your home and property can help reduce the potential impact of wildfires and will help firefighters better defend your property.
What the City of Salmon Arm is doing:
The City of Salmon Arm is taking action to reduce the risk and impact of wildfire to our community. As we live in a rural area surrounded by forested crown tenure, strategies are needed for private, agricultural, city-owned and crown lands.
2019: A Community Wildfire Prevention Plan (CWPP) was developed to prioritize initiatives – FireSmart education for residents started – an instructional clearing project near Little Mountain tennis courts was completed and fuel load mitigation targeting fir beetle infestation was begun.
2020: Fuel load mitigation of prioritized areas will be increased (Little Mountain and South Canoe) – FireSmart education for residents will be expanded – selection and training for two Salmon Arm neighbourhoods to be recognized as being FireSmart.
What residents can do:
Homeowners are encouraged to look ahead to the next wildfire season and keep FireSmart best practices in mind during spring and fall yard maintenance.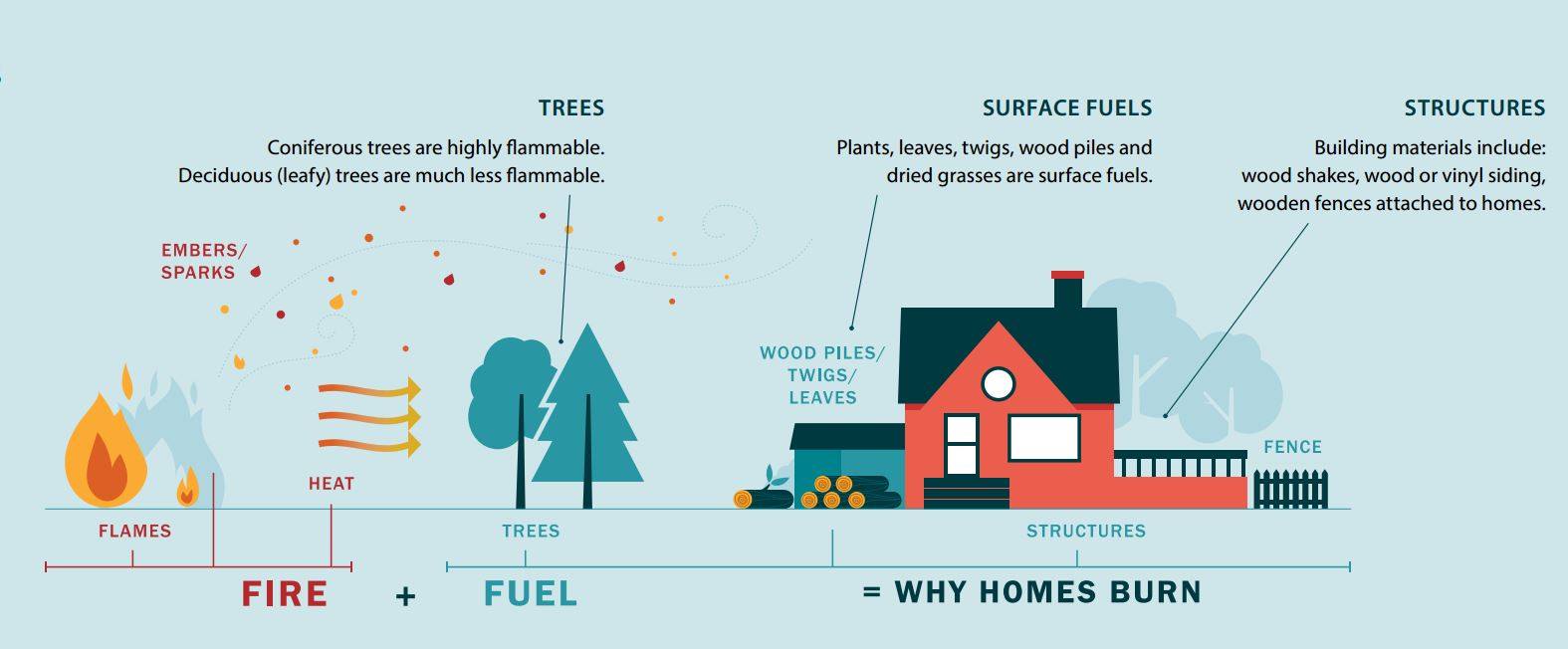 These FireSmart Homeowner resources are great for better protection of your home and property.
Check out:
You and your neighbours have a role to play in reducing the wildfire threat to your home. Changes made to the area closest to your home and your home itself have the greatest impact on reducing the risk of wildfire damage. Follow these tips, and others found in the FireSmart Guide, to help protect your home:
Remove all combustibles within the first 10 metres around your home;
Space coniferous trees 3 metres apart;
Prune coniferous tree branches within 2 metres off the ground;
Plant low-density, fire-resistant plants and shrubs with moist, supple leaves;
Remove all dead vegetation and clean up your yard regularly;
Integrate FireSmart best practices into your short and long-term renovation projects.
Listen to Councillor Lavery's radio interview.