Business Improvement Area Expansion
CITY OF SALMON ARM
PUBLIC NOTICE

NOTICE OF INTENTION

DOWNTOWN BUSINESS IMPROVEMENT AREA (BIA) PROGRAM
RENEWAL AND EXPANSION

TAKE NOTICE THAT the Council of the City of Salmon Arm proposes to renew and expand for a further seven-year period, a Business Improvement Area (BIA) for the City Centre (Downtown Salmon Arm) area. The program consists of a Business Promotion Scheme to be undertaken by the Salmon Arm Downtown Improvement Association pursuant to the provisions of the proposed Business Improvement Area (BIA) Bylaw No. 4357 encompassing such activities as:

i. the carrying out of studies and making of reports respecting the Business Improvement Area;
ii. the undertaking of certain improvements, beautification and maintenance of the streets, sidewalks, municipally-owned lands, buildings and structures in the Business Improvement Area such as street cleaning, signage, decorative painting, installation of planters and other similar projects;
iii. the removal of graffiti from building and other structures;
iv. the conservation of heritage property; and
v. the encouragement of business in the Business Improvement Area.

The BIA is to be funded by a local service tax levy on Commercial and Industrial properties prescribed as Class 5 (light industry) and Class 6 (business and other). The estimated total cost is $1,486,691.00 over the following seven years: 2020, 2021, 2022, 2023, 2024, 2025 and 2026. The property owners will pay 100% of the cost. The estimated levy (in 2020) is $1.43 per $1,000 of assessed value will be included on your respective years tax statement and must be paid in full by the tax due date. The current area of the BIA is outlined in black in the map below with the additional property that is proposed to be included in the renewal outlined and crosshatched.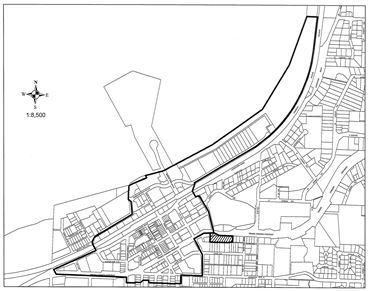 FURTHER TAKE NOTICE THAT pursuant to Section 213 of the Community Charter, S.B.C. 2003, c.26 as amended, the BIA may proceed unless Council received sufficient petition against the renewal and expansion of the BIA within 30 days after the second date of this publication in the Salmon Arm Observer newspaper. A sufficient petition must:

1. Be signed by the owners of at least 50% of the parcels that would be subject to the local service tax; and

2. The persons signing must be the owners of parcels that in total represent at least 50% of the assessed value of land and improvements that would be subject to the local service tax.

Persons who want to petition against the renewal and expansion of the Downtown Business Improvement Area must do so by submitting their petition in writing by mail, email or facsimile within 30 days of the second date of publication of the "Notice of Intention" in the Salmon Arm Observer newspaper date October 9 and 16, 2019. The final date for the acceptance of petitions will be November 15, 2019 at 4:00 p.m. Postmarks will not be accepted as date of submission.

If you wish to petition against the renewal and expansion of the Downtown Business Improvement Area, the petition form can be obtained from the Office of the Corporate Officer, Salmon Arm City Hall, 500 2 Avenue NE, Salmon Arm, BC V1E 4N2, telephone 250.803.4000, fax 250.803.4042, or by email .

Erin Jackson
Director of Corporate Services